May 5, 2023 03:02 PM Central
Master the Boardroom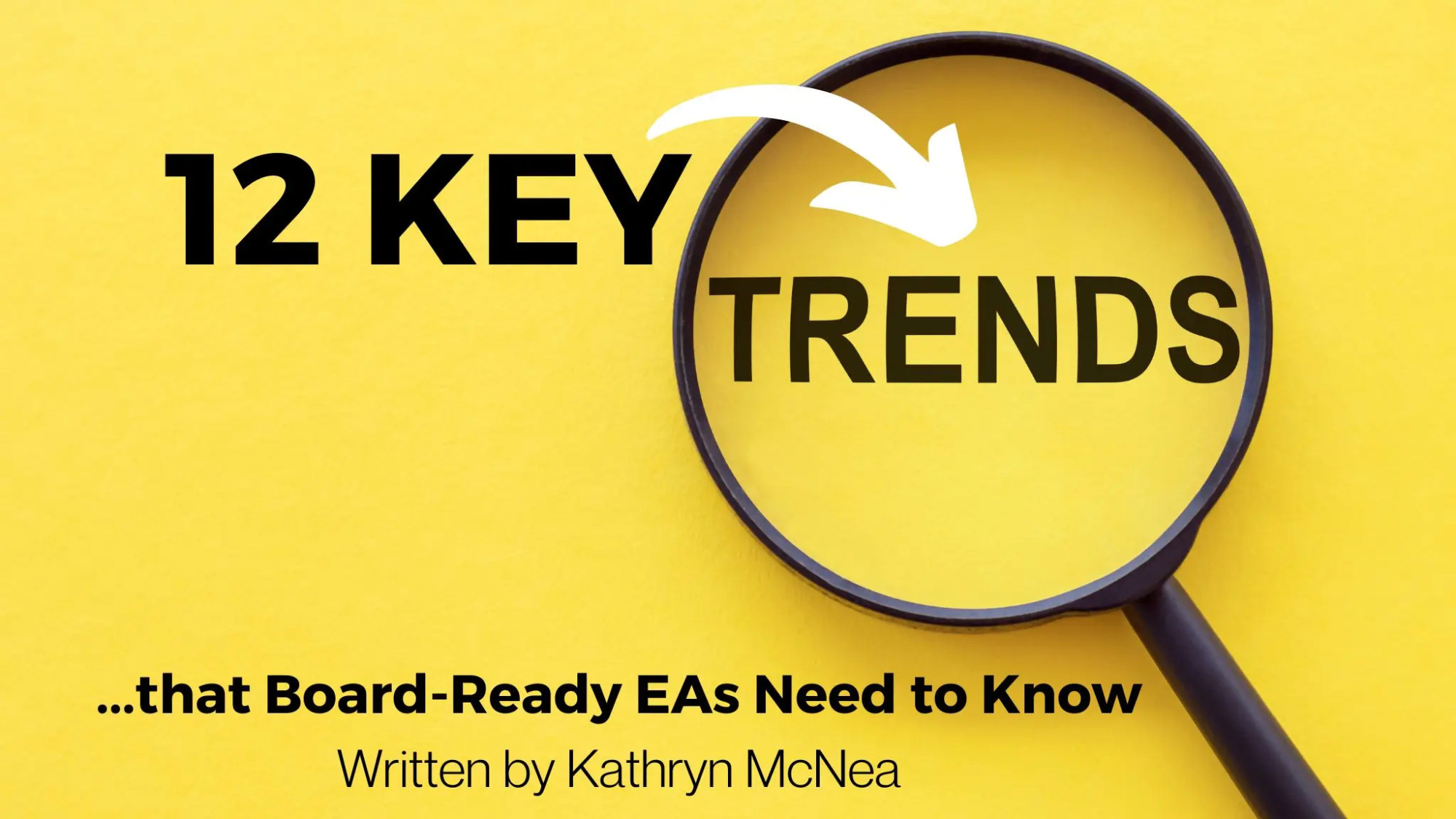 Are you aware that there are constantly evolving trends in the field of board governance administration that emerge every year? That's right, like a puzzle, processes and strategies require constant shifts and changes until the pieces all fit together. As an EA who works closely with the board of directors, Boarditude recommends that you stay on top of the latest trends to ensure that you're able to provide the most effective support to your board.
Why Should You Stay on Top of Trends in Board Governance Administration?
Before we dive into the 2023 key trends, let's touch on why they're important. One of the primary reasons for knowing current governance administration trends is that it helps the board anticipate potential changes in the industry landscape that may impact forecasting and future planning. Trends can indicate regulatory changes, innovative technology breakthroughs, and governance practices that may impact the way the board conducts business. Trend spotting allows a board-ready EA to stay ahead of the curve and be proactive in bringing about positive change to the way they manage the board's affairs.
So, here we go: Boarditude's dynamic dozen trends impacting board governance administration in 2023. (You might want to grab a cup 'a java before you start reading; it's a long one…)
Trend #1: DEI in the Boardroom
Diversity, equity, and inclusion (DEI) has been a major trend in board governance administration over the past few years, and it's not going away anytime soon. In fact, DEI has become an even more critical issue in 2023. With heightened awareness of systemic racism and social justice issues, companies are increasingly accountable for promoting DEI in their workforce, including the boardroom. The tone from the top requires that board directors lead by example and represent the diverse demographics of their stakeholders. They have a responsibility to ensure that board membership reflects the diversity of the communities they serve. They need to take active steps to promote equity and inclusion within the organization with a top-down approach because it's no longer acceptable to have boards that lack diversity.
DEI is not just the right thing to do; it has genuine business benefits. According to a McKinsey study,
"Women Matter: Time to accelerate"
companies in the top quartile for gender diversity on their executive teams were 25% more likely to have above-average profitability than companies in the fourth quartile. Moreover, companies with greater racial and ethnic diversity are 36% more likely to outperform those without it.
As a board-ready EA, it is important to be aware of the latest developments in DEI and to work with your board to support the full integration of DEI practices into the board's decision-making processes. You should keep it in mind when managing the board's agenda and supporting the facilitation of discussions around DEI. You can also promote it by encouraging the recruitment of diverse candidates for board positions, which will help to create a culture of inclusivity within the boardroom.
Being proactive in promoting DEI can help the board be seen as a champion of diversity, equity, and inclusion, ensuring the recruitment of top talent, customer retention, and an overall improved brand reputation. Support of a DEI initiative may require the board to allocate resources for training, development.
Trend #2: Specialized Board Committees
Another emerging trend is a focus on board committee mandates, structure, scope, and membership. While some company boards maintain more traditionally structured committees, others have specialized committees that address specific concerns. This approach allows board directors to focus on specific topics that promote committed engagement and diverse perspectives.
A board-ready EA can support this transition by collaborating with committee chairs on the best way to effectively restructure committees. Additionally, an EA can help streamline communication within the committee to simplify the decision-making process.
Trend #3: Director Professional Development
Board director professional development has emerged as an important growing trend. It emphasizes the importance of providing resources that enable them to acquire new skills, build business-world acumen, keep up with technological advances, adapt to new board governance models, and stay current on developments within their industry. Ensuring that board members have access to development and training opportunities should include an initial "refresh" exercise that determines current gaps in skills and expertise on the board.
A board-ready EA can initiate a board skills assessment, determine which areas of expertise are lacking on the board, coordinate training sessions or access to educational resources, keep track of director professional development goals, and recommend potential courses or conferences that align with the needs of the board.
Trend #4: Sustainability and ESG
Environmental, social, and governance (ESG) considerations play an increasingly significant role in how companies do business. Boards should recognize the significant impact that the environmental and social footprint have on their company's reputation and bottom line. It's also become a significant factor in investor decision-making because investors and other stakeholders now place greater emphasis on ESG factors when evaluating companies.
In North America and abroad, regulators and governments are legislating ESG reporting in many industries. Soon, companies will have to devote more time and emphasize sustainability in response to not only increased regulatory pressure but also heightened social awareness.
Your support as a board-ready EA in this area helps the board demonstrate a commitment to ESG principles. You may be asked to gather data for ESG related reports, track the organization's carbon footprint, monitor its social impact, or coordinate meetings and stakeholder events that promote sustainable practices. The bottom line is that focusing more on ESG initiatives can attract customer confidence, reduce risk, and help organizations thrive over the long term.
Trend #5: Risk Management
In today's business world, this integral part of corporate governance requires optimization and oversight of an effective risk management framework due to the increasing complexity of risks.
Board oversight includes identification and assessment, strategy management development, and monitoring of all risks on an ongoing basis. As a board-ready EA, it is important to understand the implications of corporate risk, and work with your board and leadership team to ensure effective risk management strategies are integrated into the decision-making processes.
Trend #6: Cybersecurity Risk and Mitigation
Cybersecurity has been an issue for businesses worldwide for a long time, and will continue to escalate in the coming years, so staying tuned to emerging threats and best practices is essential.
Every organization, no matter its sector or size, is at risk of an internal or external cyber breach, which can lead to significant financial and reputational damage. These days, the heightened interest in cybersecurity extends beyond IT professionals, and now includes the board and shareholders.
Good governance integrates proactive stewardship of cybersecurity protocols, reporting, and risk assessments as part of its framework. Depending on the size of your organization, the board-ready EA may be asked to coordinate threat monitoring with the IT department, ensure adequate protections are in place, and identify potential vulnerabilities in addition to their governance administration role.
Trend #7: Crisis Management and the Board
Since 2020, there has been an escalation of unexpected disruptions and crises in many companies. This has created a growing trend for board involvement in crisis management planning and decision-making. Crisis preparedness enables the board to respond quickly and effectively during crisis situations.
A board-ready EA can ensure that the board is prepared for unexpected events by supporting the creation of a crisis management plan and communication plan.
Trend #8: Communication and Transparency
Effective communication reinforces stakeholders' trust, reflects organizational values, and reinforces accountability to shareholders, employees, and the community. Simply put, good governance ensures that boards exercise transparency in their decision-making processes and that stakeholders have access to the information they need to make informed decisions. As a board-ready EA, it is important to work with your board to develop effective communication and transparency strategies.
Trend #9: Ethics and Integrity
Ethics and integrity are not only essential for businesses to gain trust with all stakeholders, but they are also the cornerstones of good governance. The board has a fiduciary obligation to represent the best interests of the beneficiaries of an organization by applying the duties of care, loyalty, and obedience.
As such, board governance administration trends increasingly emphasize the importance of ethics and integrity in reporting standards and communications, with responsible individuals tasked with ensuring that ethical practices are maintained.
Trend #10: Use of Technology to Enhance Board Efficiency and Effectiveness
Technology in governance administration is here to stay. Incredible advances in recent years have significantly impacted the boardroom, facilitating automation, enhancing collaboration, and streamlining processes. The time savings element for a board-ready EA cannot be underestimated. Fortunately, many boards are investing in digital tools such as cloud based board portals, virtual meeting tools, and collaboration software that enhance meeting efficiency and effectiveness, reduce paper-based processes, and improve collaboration.
Being able to use a board portal for electronic board book management, electronic voting and decision-making, or virtual meeting software are gifts that keep on giving. Governance budget cost reduction, online collaboration opportunities, and enhanced decision-making processes are a few of the benefits.
As a board-ready EA, become familiar with the latest governance technology developments and work with your board to identify solutions or upgrades that will enhance board services management operations.
What EA doesn't love virtual board and committee meetings? The COVID-19 pandemic forced many boards to conduct meetings remotely. Even as the pandemic subsides, reduced travel and increased member attendance are a couple of the great benefits of this budget friendly approach to meeting management.
Of course, a board-ready EA will make sure that the digital tools are utilized appropriately, integrated with security protocols, and that a backup plan is in place in case of tech issues. But overall, remote board and committee meetings with today's video conferencing technology are amazingly efficient and effective. Boarditude gives board portals and virtual meetings a 5-star ***** rating.
Trend #11: Stakeholder Engagement
A recent study found that companies that prioritize stakeholder engagement generate more long-term value than companies that don't.
As a board-ready EA you can provide the board with relevant data about stakeholders and help create communication plans that prioritize engagement.
Morrow Sodali is a global leader in providing strategic advice and services to boards and shareholders. Here's a link to a trending piece written by Chris Hodge on
The Board and Stakeholder Engagement
Trend #12: Stakeholder Capitalism
What does it mean? Simply put, many boards now consider broader perspectives when making decisions through a new model of engagement that recognizes the importance of all stakeholders. It promotes a culture where not only shareholders but also members, employees, investors, customers, suppliers, policymakers, and the community are encouraged to create long-term value for the organization.
We'll hear more about this trend in the future. It is in direct response to growing criticism of the traditional shareholder capitalism model of governance that focuses on quarterly profits that maximize shareholder value only. It is thought that this model is shortsighted and leads to reduced employee wages and benefits, neglect of social and environmental responsibilities, and the risk of impacting long-term sustainability.
As a board-ready EA, you can learn a lot about what works and what doesn't in these models just by tuning in to the daily news.
So, there you have it.
Remember that knowledge is a powerful thing. Understanding today's business world will enable you to take part in discussions, help drive the productivity of your leadership team, and build your credibility. You'll promote good governance, which will ensure the board is fully prepared to tackle the challenges of the future.
Being board-ready is critical to effectively navigating an evolving business landscape in highly pressurized and scrutinized environments. Industries today face increasingly complex and ever-changing legal and regulatory challenges in countries all around the world. The rapid pace of emerging technology, compliance expectations, stringent ethical standards, and the growing importance of environmental, social, and governance (ESG) issues are only a few of the trends to watch.
At Boarditude, we take the challenges of today's business very seriously. Our mission is to empower governance administrators with the knowledge, skills, and guidance needed to support organizational success with tools and support that will take you from competent to confident so that you can FEARLESSLY drive productivity, participate in business activities, and ultimately amplify the impact of your Board of Directors. Get on the wait list for the
"Board Readiness for the Unstoppable EA"
program today.
Are you on LinkedIn?
Ambitious, determined, and strategic, with a strong sense of corporate social responsibility in a role that supports the board of directors, you want to contribute to the success of the organization and its leaders.
That means being well-equipped and ready to drive the actions coming out of the C-suite, always aware of the valuable assets you bring to the table as a respected accountability partner in the boardroom. You need to be in sync with director roles and responsibilities, governance best practices, industry trends, regulatory obligations, and always have access to key information with the right answers.
Top corporate governance professionals who understand how ideas brought to the board of directors are strategized, triaged, and executed are highly sought after in all industries, worldwide.
Welcome to BoarditudeTM. Expert solutions for effective board governance administration management.